Dani Ramdan welcomes the Bike Go to School program

the game

September 16, 2022 –

Posted by: newsroom discoinfosantic –

Read: 15 times
---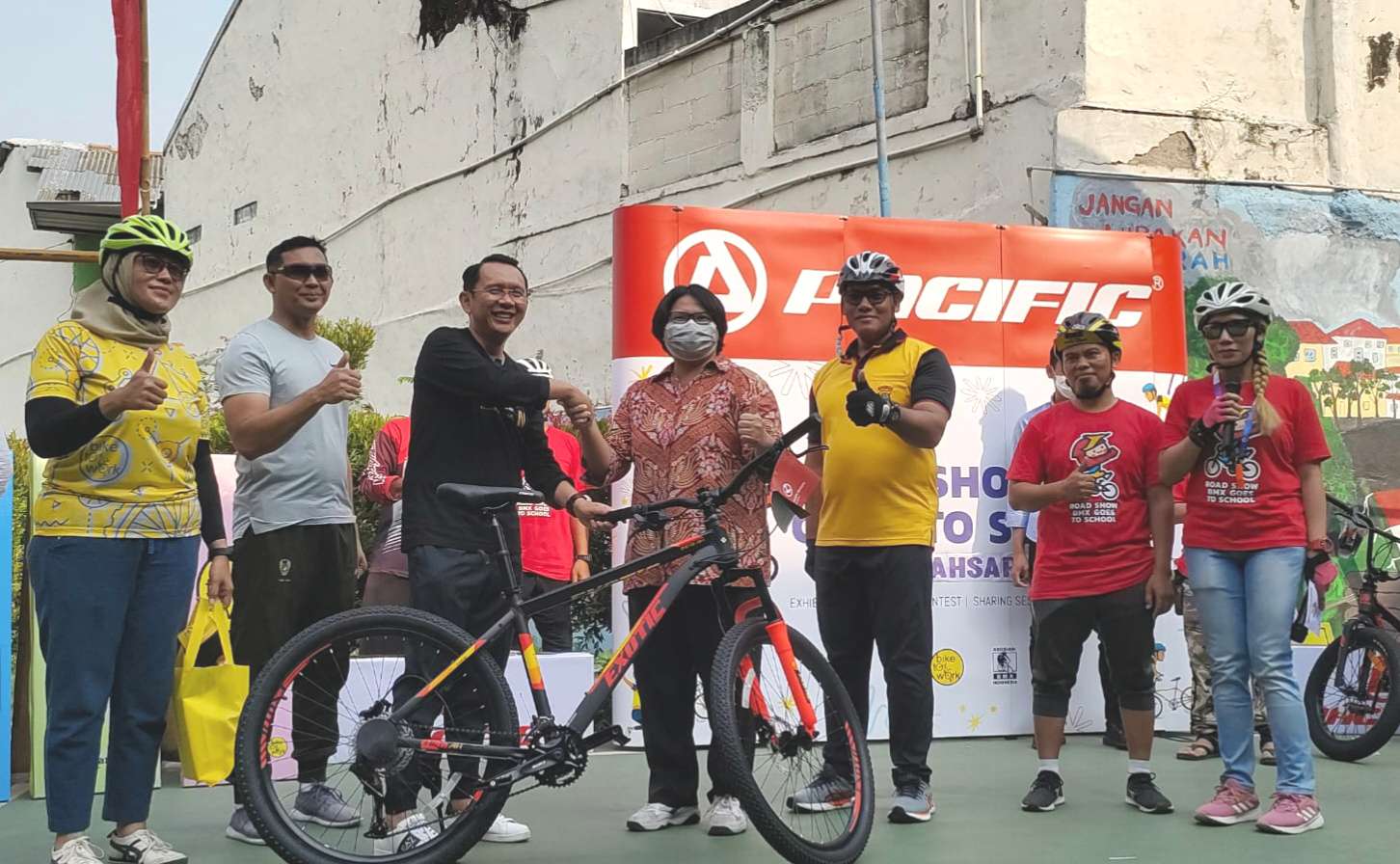 Goes to School: Acting Regent Dani Ramdan Sari Putra of Bekasi participates in the Goes to School BMX road show. Friday (16/9/22) RE Martadinata Karangbaru Village in North Sikarang District. Photo: Andre M Zafar/Newsroom Discominfosantic
---
The answer is Sikarang – Acting Bekasi Regent Dani Ramdan welcomed the Cycling to School Movement Program (Bike Go to School) which was initiated by the Indonesian Cycling Workers Community (B2W).
Dani Ramdan said movement culture is the key to health, as the human body is designed to move.
"Yes, I welcome this bike to school program, which must start getting used from the kids, and the easiest practice is to do it every day," said Dani Ramdan while attending the BMX Goes to School road show event. Sari Putra, Jl. Friday (16/9/22) RE Martadinata Karangbaru Village in North Sikarang District.
The event was attended by Bekasi Metro Police Chief, Combes Paul. Gideon Arif Setyawan, Dandim 0509/Bekasi Regency, Lt. Col. Inf. M Horison Ramadan, North Sikarang Sub-District Enop Can and dozens of Sari Putra School principal students
Dani explained that cycling to school is great, but it must be on a safe route, from home to school.
"So we start from a safe school environment from home to school. One of them is Sari Putra School which has been chosen by B2W as the starting point of the declaration, so that it becomes a habit of the children. For other schools, which are located safely like this, we do the same. I can," he said.
Dani said local governments encourage people to practice healthy living by cycling to work, school and other activities.
"Yes, from children and their parents, to work and other activities, you can ride a bicycle. In addition, the topography (surface of the earth) of Bekasi Regency is flat, which makes it easy for cyclists. We want to stay safe. Preparing," he said.
Dani Ramdan hopes that by announcing bikes in schools, children can be encouraged to cycle every day.
"Especially if a teacher sets an example of cycling in school, I hope this culture can spread to other schools," he said.
Reporter: Andre M. Zafar
Editor: Yus Ismail